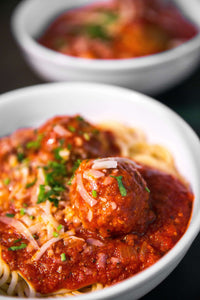 Home-style Pasta Sauce
There's something super satisfying about a good, home made pasta sauce. Perfect for that classic spaghetti and meatball dish!
Ingredients
2 tsp olive oil
1 lb sweet Italian sausage, sliced
3/4 lb lean ground beef
1/2 cup minced onion
3 cups tomatoes, cut into quarters
2 (6 ounce) cans tomato paste
2 (6.5 ounce) cans tomato sauce
1/2 cup water
2 tbsp white sugar
2 tbsp Vanillablossom Granulated Garlic
1 1/2 tsp Vanillablossom Dried Basil
1/2 tsp fennel seed
1 tsp Italian seasoning
1/2 tsp salt
1/4 tsp Vanillablossom Black Peppercorn (ground)
Directions
In a large saucepan or pot over medium heat, brown the sausage, beef, and onion with the oil. Drain any extra fat once browned.
Stir in tomato ingredients and water. Add remaining ingredients and simmer over low heat for 60-90 minutes, stirring occasionally. Serve with your favorite pasta and enjoy!
---