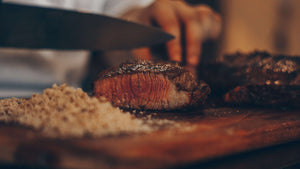 Homemade Steak Spice
Looking to spice up your life? Our homemade steak spice is just what you need to add some extra flavor to dinner tonight!
Ingredients:
1 tablespoon Brown Sugar, packed
1 tablespoon Sea Salt or Kosher Salt
2 teaspoons Ground Chile Pepper
2 teaspoons Vanillablossom Paprika
1 teaspoon Vanillablossom Rosemary
1 teaspoon Vanillablossom Ground Black Pepper
1/2 teaspoon Vanillablossom Granulated Garlic
1/2 teaspoon Onion Powder
1/2 teaspoon Ground Cumin
1/2 teaspoon Ground Mustard
Directions:
Combine all ingredients into a bowl and mix well. Massage into meat, letting rest for approx. 20 minutes before cooking to perfection!
Store in an airtight container and keep in a cool, dry place.
---