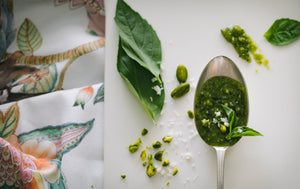 Dried Basil Pesto
Can you make dried basil pesto? And does it even taste good? Yes, through we recommend making it with fresh basil if at all possible! Here's our recipe for dried basil pesto.
Ingredients
1/4 cup raw unsalted cashews, pine nuts, or walnuts
1/4 cup Parmesan cheese, shredded
1 medium garlic clove, peeled
3 tbsp 
dried basil
1 tbsp fresh lemon juice
1/8 tsp kosher salt
6 tbsp olive oil
Directions
In a food processor, place all ingredients but the olive oil. Blend for a few seconds until fully combined.
With the food processor on, add the olive oil in a steady stream. Continue to blend until combined and a thick sauce forms. Store 1 week in the refrigerator or several months frozen.
---