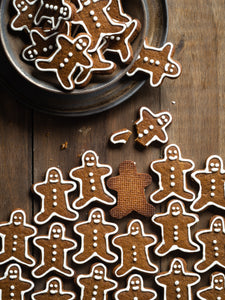 Gingerbread Cookie Recipe

A holiday classic! These cookies are perfect for decorating or just eating plain. Baking time will depend on the size of your cookie cutters, so keep an eye on them!
Ingredients
3/4 cup butter, softened
3/4 cup packed brown sugar
2/3 cup molasses
1 large egg
1 tsp Vanillablossom vanilla extract
3 1/4 cup all-purpose flour
1 tsp baking soda
1 tbsp ground ginger
1 tsp ground cinnamon
1/2 tsp ground cloves
1/4 tsp ground nutmeg
1/2 tsp salt
Directions
Using a large bowl and power mixer, beat butter, brown sugar, and molasses until fluffy (about 2 minutes). Add egg and vanilla and continue mixing until combined.

In a separate medium bowl, whisk together flour, spices, baking soda, and salt. With the mixer on low, slowly add dry ingredients to wet until dough just comes together but without overmixing.

Divide dough in half. Wrap each half in plastic wrap and chill until firm, 2+ hours or overnight.

Preheat oven to 350° and line two large baking sheets with parchment paper. Place one disc of dough on a lightly floured surface and roll until 1/4" thick. Cut out desired shapes. Transfer to baking sheets.

Bake 9-10 minutes or until slightly puffed and set. Let cool on baking sheets for 5 minutes before transferring to a cooling rack to cool completely.

Repeat with remaining dough. Decorate as desired!
---