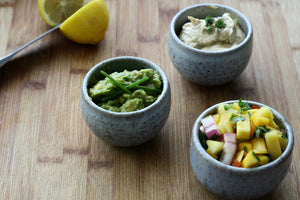 Mango Vanilla Salsa
A little sweet, a little savory, a little spicy. Pair with some guacamole and pita or corn tortilla chips for a zesty and refreshing treat!
Ingredients:
1 ripe mango
1 jalapeño
2 roma tomatoes
1/2 small red onion
Zest and Juice of one lime
½ clove of garlic (chopped)
1/4 tsp Vanillablossom Vanilla Paste
Salt and pepper to taste
Cilantro (optional)
Directions:
Peel and dice mango into small cubes. Slice the jalepeno, removing the seeds and coarsely chop. Dice red onion and tomato, then combine first four ingredients in a medium sized bowl.
Zest and juice the lime, and whisk in small bowel to combine. Add ½ clove of garlic (chopped) and vanilla paste to lime mixture. Whisk to combine.
Combine all ingredients and mix well to combine. Use immediately or refrigerate. Add some coarsely chopped cilantro as a garnish or mix in for some extra flavor.
---