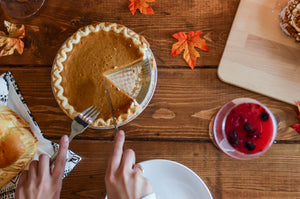 Classic Pumpkin Pie
A classic, creamy, rich pumpkin pie recipe. We use extra cinnamon to really make eat bite pop!
Ingredients
2 cups pureed, baked pumpkin
1 (14 ounce) can sweetened condensed milk
2 large eggs
2 tbsp ground cinnamon
1 tsp ground ginger
1/2 tsp ground nutmeg
1/2 tsp salt
1/2 tsp Vanillablossom Vanilla Extract
1 (9 inch) unbaked pie crust
Directions
Preheat oven to 425 F. Combine all ingredients (except pie crust) into a medium bowl and mix or whisk well until smooth. Pour into crust and bake for 15 minutes.
Reduce temperature to 350 F and bake for an additional 35-40 minutes until center is firm, but still moist (a toothpick should come out clean after being inserted in the center). 
Serve with whipped cream or desired toppings and enjoy!
---