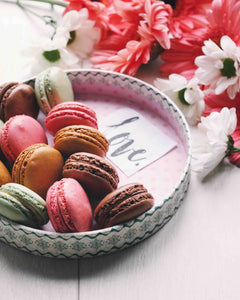 Vanilla French Macarons
Feeling ambitious? These macarons are delicately crunchy with a soft, buttercream center. We chose a pink food coloring to fit with the "love day" theme, but experimenting with colors and flavors is half the fun! Make sure to follow our steps closely for the best results.
Ingredients
1 cup fine almond flour
1¾ cups powdered sugar
1 tsp salt, divided
3 egg whites
¼ cup granulated sugar
½ tsp 
Vanillablossom™ Vanilla Extract
2 drops pink gel food coloring
Directions
Using a food processor, combine the almond flour, powdered sugar, and ½ teaspoon of salt. Process on low speed until extra fine. Sift the mixture through a fine mesh sieve into a large bowl and set aside.

In a separate large bowl, beat the room temp egg whites and remaining salt with an electric mixer until soft peaks form. Add the granulated sugar gradually until fully combined. Continue to beat until stiff peaks form. Add the vanilla and food coloring and beat until just combined.

Add the sifted almond flour mixture about a third at a time to the beaten egg whites, using a spatula to gently fold until combined. After the last portion of almond flour, continue to fold slowly until you can make a non-breaking figure 8 "batter trail" dripped from your spatula.

Fill a piping bag fitted with a round tip with the batter. Pipe the macarons onto the parchment paper in 1½-inch (3-cm) circles, spacing at least 1-inch (2-cm) apart. Tap the baking sheet on a flat surface 5+ times to release any air bubbles.

Let the macarons sit at room temperature for 30 minutes to 1 hour, until surface is dry to the touch.

Preheat the oven to 300˚F (150˚C). Bake the macarons for 17 minutes, until well-risen and the macarons don't stick to the parchment paper. Transfer the macarons to a wire rack to cool completely before filling.

Fill with a dollop of your desired buttercream filling and top with another.
Place in an airtight container for 24 hours to "bloom". Enjoy!
---